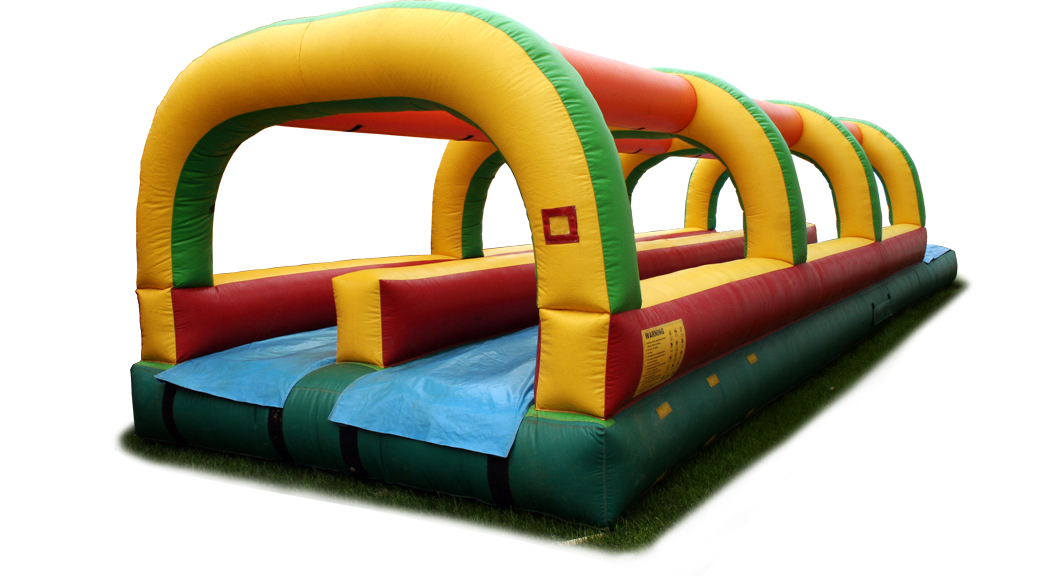 For many years, the experts at Jungle Jumps have produced industry-leading inflatable products to exacting standards. The inflatable products our company manufactures are produced right here in the United States. We use only the highest grade of materials, then back each product with the quality and performance our customers have come to expect from our inflatable creations. From traditional bounce houses to fun interactives, wet or dry water slides, and a wide range of combo models, there is a perfect inflatable for any event. Here is a look at several of our most popular inflatable model categories, with a special focus on why Jungle Jumps stands out from the competition.
Our Inflatable Products
Jungle Jumps produces hundreds of different models of commercial-grade inflatables; as one of the largest inflatables manufacturers in the United States, our selection is unrivaled in the industry. Our most popular product categories include:
Bounce Houses – sometimes called jumpers, moonwalks, or bouncers, this category is our bread and butter. We produce over 100 individual base models, from fantasy-themed castle bouncers to expansive double bounce houses, specialty-themed models, and bounce houses with tropical styling.
Combos Wet and Dry – our combo models have been a hit ever since we introduced the concept of combining an inflatable slide with a bounce house. Many of our models can be used wet or dry, depending on weather conditions, thanks to the optional splash pool that is located at the base of the slide unit. Just like our bounce houses, these combos can be found in a range of styles from castle themes to models with sports and space styling. Some of our most popular include our tropical models, many of which feature styling elements like simulated palm trees and decorative printing.
Slides Wet and Dry – inflatable slides are always a great choice for parties where children will be in attendance. We produce dozens of models ranging from single lane units to those with multiple slide lanes. Some of our inflatable slides permit the option of wet or dry use. Models to be used with water include a generously-sized splash pool at the base of the slide lane(s).
Interactives – interactive inflatables provide endless hours of entertainment, giving youngsters a range of activities in each of our models. Many of our interactives include climbing walls or ramps, inflatable obstacle courses, slides, and all the bouncy thrills of a traditional bounce house. We produce a wide range of interactive products from compact units all the way to giant double-sized models.
Games – test your skills in head-to-head or solo competition with one of our inflatable game models. We have a huge selection of products to choose from: everything from inflatable sports arenas to tic-tac-toe games, ring toss games, cash cubes, and even a giant form of the classic "Twist" board game. At outdoor events and festivals, our quality inflatable games are sure to be a hit with youngsters of all ages.
The Jungle Jumps Difference
From our first days in the industry, Jungle Jumps set out to do things differently. We combine exacting manufacturing practices, cutting-edge designs, and the highest quality of materials in the industry to create our commercial-grade inflatables. Each product starts with colorfast, durable vinyl fabric – far more tear-resistant than the competition and able to withstand years of use. Many of our products can be customized with specific colors and printing to help them stand out at parties and events all year long.
As we assemble our colorful inflatable creations, we add strategic reinforcements to high-wear areas. All internal baffles are made from the same material as the outer shells; this is superior to most other inflatables on the market. Our stitching and thread quality surpasses that of our competitors as well, ensuring lasting performance. Finally, we add numerous anchor points to each unit to secure the inflated assemblies during use.
The end result is a range of inflatable products that are ready to take on years of fun and entertainment with little or no maintenance. Jungle Jumps remains committed to being an industry leader, producing the highest quality products backed by one of the best warranties in the business and lifetime product support.